A pivot point is becoming more popular in traders working to find support & resistance level based on previous day's Open, High, low & Close .There are various types to calculate pivot point. With using PPyou can find trading opportunities in each trading days. It is the most usable Indicators among all indicators.

How to calculate?
Formula
Pivot Point (PP) = (Day's High Price + Day's Close + Day's Close)/3
Support-1 (S1) = (PP * 2) – Day's High
Support-2 S2) = PP- (Day's High – Day's Low)
Support-3 (S3) = Day's Low – 2 *(Day's High – PP)
Resistance-1 (R1) = (PP * 2) – Day's Low
Resistance-2 (R2) = PP+ ( Day's High – Day's Low)
Resistance-3 (R3) = Day's High + 2 *( PP- Day's Low)
How to Use in day trading?
Lets Study Below Chart for how to use PP.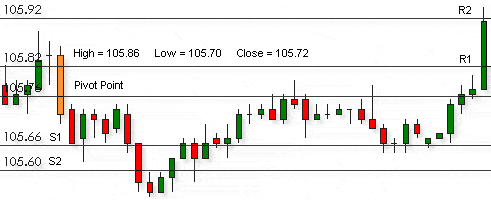 Support & Resistance.
Main key issupport & resistance.
Support:- In PPsupport values is a price which is very important level for buying the company stocks. Suppose particular company share price is going down & hits its support price, than usually its start to rebound & begin to moves up again. Support price is the price which give you indication to buy that particular shares. If price moves again down through a support price, you can must use next support price as an another indication of buying.
Resistance:- In PPResistance exactly works opposite to support.
Resistance price use for selling indication in Trading.